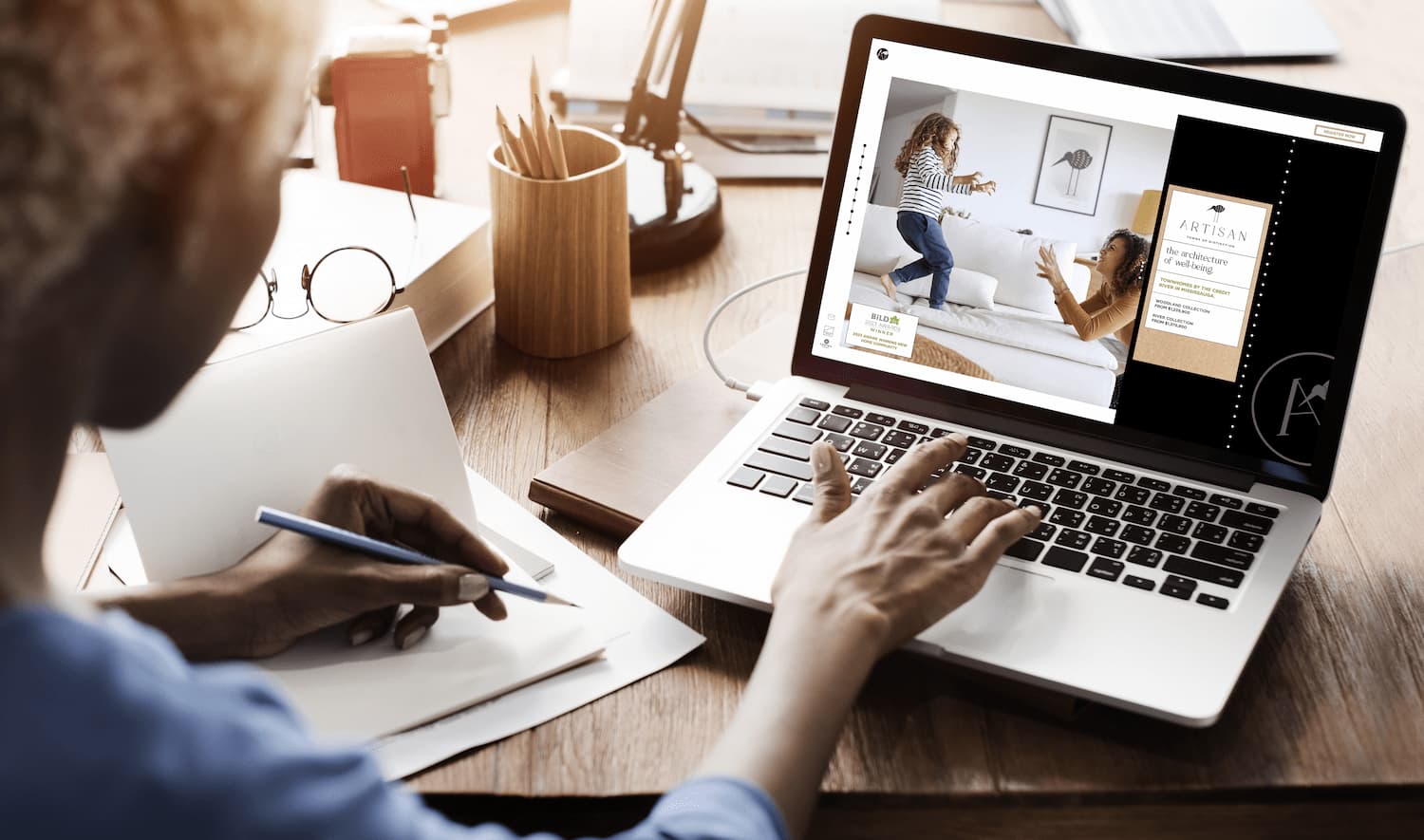 Back
COOLAID One Secures Third Consecutive CHBA 'Website of the Year' Nomination
COOLAID One Secures Third Consecutive CHBA 'Website of the Year' Nomination

In 2022, COOLAID embarked on a proud journey to launch an extraordinary endeavor by Sterling Group and Centra Homes in the secluded haven of Mississauga. This unique, one-of-a-kind community unveiled Artisan, Towns of Distinction, where breathtaking townhomes embraced by sprawling greenery are nestled harmoniously along the serene banks of the Credit River. Artisan sparked a wave of excitement among buyers, investors, and the industry at large, earning notable recognition at the 2023 BILD Awards with nominations for Best Logo & Branding and Best Overall Marketing Campaign, ultimately claiming the coveted Best Branding honor in the low-rise project category. Further accolades came in the form of COOLAID One's implementation for Artisan, garnering recognition from The Canadian Home Builders Association (CHBA) in 2022. The innovative COOLAID One marketing tool earned a nomination for Website of the Year, marking the third consecutive year that COOLAID has received this esteemed acknowledgement for a COOLAID One project.
COOLAID One offered potential homeowners and investors an immersive and dynamic experience of Artisan. With a strategic approach, the journey unfolded as assets were created and sales commenced. Users were invited to embark on a captivating exploration of Artisan, guided by engaging narratives that unveiled the surrounding area, amenities, and the gradual reveal of renderings, floor plans, and site plans. All of this unfolded seamlessly within a meticulously planned marketing release schedule. This approach ensured convenient access to vital sales documents such as price lists, incentives, and APS documents, empowering users to delve into every aspect of Artisan Towns from the comfort of their own homes.
In anticipation of the Artisan Towns launch, a captivating story unfolded, with each chapter revealing enticing updates and captivating information. This strategic approach proved tremendously successful, as potential homeowners eagerly returned to the website week after week, driven by the desire to stay informed about the latest developments, particularly during the Sales Launch period. The final chapters, which showcased the site plan and broker portal, generated immense interest, boasting remarkable open rates of over 65% on e-blasts and an impressive click-through rate of 15%. These enticing chapters also prompted over 1,000 downloads, solidifying their status as highly sought-after resources.
As it did for Artisan, COOLAID Studios pioneers innovation and champions the harmonious integration of digital and hybrid sales center environments through COOLAID One, a proprietary tool that revolutionizes the landscape. With its user-friendly interface, COOLAID One seamlessly merges all marketing and sales information, resulting in a remarkable achievement in UI/UE design. This exceptional tool combines a range of elements effortlessly: an engaging interactive marketing brochure, a streamlined registration page, a fully functional launch website, a dynamic buyer and broker portal, real-time sales updates, and even an interactive touchscreen feature for in-person sales center applications. COOLAID One truly sets the benchmark for comprehensive and cutting-edge solutions.
The remarkable features of COOLAID One go beyond its visually stunning aesthetics and UX enhancements. By creating an enjoyable user experience, COOLAID One elevates engagement levels, extends view times and increases clicks, downloads, and overall success. This dynamic tool consistently evolves, learns, and adapts to better cater to its users' needs. It offers invaluable insights into viewer interactions, empowering the implementation of refined strategies based on feature popularity, interests in local amenities, and preferences for floor plans. With these insights, a truly tailored and purposeful experience is ensured for all parties involved.
COOLAID One possesses a remarkable attribute of versatility, serving as both a digital tool for the virtual environment and an in-office product touchscreen, all at no extra cost to the client. By eliminating the requirement for custom-coded touchscreens, COOLAID One effortlessly presents real-time site plans, pricing information, interactive floor plan features, and a wealth of details about local amenities and the esteemed builder group. This seamless integration creates an immersive and captivating experience within a traditional sales environment, enhancing engagement and providing a comprehensive sales tool for effective interactions.
COOLAID One truly embodies the all-in-one sales tool, streamlining operations in a fully digital or hybrid sales environment while significantly reducing costs associated with printed materials. Experience the remarkable capabilities of COOLAID and COOLAID One through the firsthand account of a satisfied sales agent:
"COOLAID's Digital Marketing Brochure raises the bar—it's perfect for today's sales environment. Everything is in one place, it's fun and interactive, easy and informative. A dream platform to showcase any project for brokers or buyers. It's a Game Changer." – Paolo DiPede, Sales Manager, Spectrum Sky
To learn more about Artisan Towns and explore the CHBA-nominated Website of the Year for 2022, visit www.artisantowns.ca to access the public version of COOLAID One.
For further details on COOLAID One and an opportunity to connect with our esteemed branding and strategy professionals, please reach out to info@coolaidstudios.com.